PIERRE NEAU – THE ANCESTOR OF LABRIES
Pierre NEAU, the ancestor of numerous cousins in America who either conserved the NEAU patronym or the place name derivative, LABRIE, or one of various spellings of either original name, came from Brie-sous-Matha, France. 
This parish (commune) of the old province of Saintonge is located 30 km east of Saint-Jean-d'Angély and 16 km north of Cognac in the present department of Charente-Maritime and has 185 inhabitants in which there are neither NEAUS nor LABRIES today. Even though the story of Brie-sous-Matha dates back before the year 1000, the first mention of the NEAU patronym appears only in 1582 in the accounts of a recognition case filed by Gilles Du Chesne, lord of Brie, against about 30 members of the village.
<![if !vml]>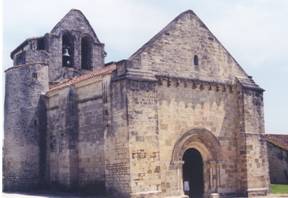 <![endif]>
The oldest parts of the Saint-Pierre church
building date back to 12th century.
The father and mother of the ancestor Pierre NEAU also came from Brie-sous-Matha. The father, Jean NEAU, son of Pierre Neau and Anne Joziau, had been baptized on May 6, 1609 in the Saint-Pierre church and the mother, Perrine Martin, daughter of Mathurin Martin and Suzanne Bigeon, had also been baptized on the same location on September 12, 1613. The same church had also seen the marriage of the NEAU-Martin couple on April 27, 1643 as well as the baptism of their six children: Jean (February 2nd, 1644), Marie (March 2nd, 1646), Michel (January 19, 1648), Jeanne (January 28, 1653), Pierre (August 4, 1655) and Matheline (January 7, 1657).
Hence, Pierre NEAU was the fifth of six children. Although his exact date of birth is not mentioned in the records of the Saint-Pierre parish, one could reasonably assessed that he was born the very day of his baptism, August 4, 1655.   
We know nothing about the first years of the ancestor and we cannot tell the exact reasons why he decided to emigrate to New France, in 1684.  "It is as a soldier that Pierre NAU crossed the Atlantic Ocean. The historians suppose that was probably involved in the expedition of Governor Lefebvre de La Barre against Iroquois in the Great Lakes Region. "It is as a soldier that Pierre NAU crosses the Atlantic. The historians believe that he took part in the expedition of the governor Lefebvre de La Barre against the Iroquois in the Great Lakes area. When Lefebvre passed his strength in review, at Fort Frontenac, reports Pierre-George Roy, on the boat La Générale were soldiers named Boisjoli, Lamontagne, Arnault and Labrie.
Whatever happened, the ancestor became a navigator, which probably explains the fact that the acts of the marital status relating to him can be found not only in Saint-Laurent, Island of Orleans, but also in the registers of a half-dozen parishes on the South Shore of the St. Lawrence River. It is only circa 1712 that he acquired a piece of land very close to another one belonging to Michel Mailloux, also from Brie-sous-Matha, and whose Mailloux Creek points out the memory" [translation of Robert Prévost, La Presse, April 13, 1996]
Pierre NEAU founded a family by marrying Marie-Thérèse Garand (daughter of Pierre Garand and Renée Chanfrain) on October 6, 1692, at Saint-Laurent, Island of Orleans, near Québec City. The engaged couple had contracted marriage earlier that year, on July 26, 1692, in Québec City, in the presence of Maitre Louis Chambalon, notary. The couple had twelve children. Widowed in May 1715, Pierre remarried on April 20, 1716, in La Durantaye (near Lévis), to Marie Gaboury, widow of Antoine Goupil and daughter of Louis Gaboury and Nicole Souillard. Another child was born from this union, on March 15, 1717. Marie Gaboury also gave birth, thereafter, with a natural child (of unknown father) on July 7, 1720. We thus locate the date of death of Pierre between these two events (1717 and 1720).
Extract from the baptism register of the Saint-Pierre parish in Brie-sous-Matha
<![if !vml]>

<![endif]>
le 4èsme jour daougst 1655 a este baptize par moy soubs signe pierre janeau fil de jean neau et de perine martin ses pere et mere a este parrein pierre catherineau et marreine jehanne peluchon faict en presence de michel arandeau [the 4th day of August 1655 was baptized by the undersigned Pierre Janeau, son of Jean Neau and Perrine Martin, his father and mother, did signed Pierre Catherineau, godfather, and Jehanne Peluchon, godmother. Done in the presence of Michel Grandeau]
catherineau et decheureuse, curé de brie
[Catherineau, godfather, and Decheureuse, parish priest of Brie]
---
Copyright © 1996 Association des Familles NAU inc.
Last modified, June 30, 2009